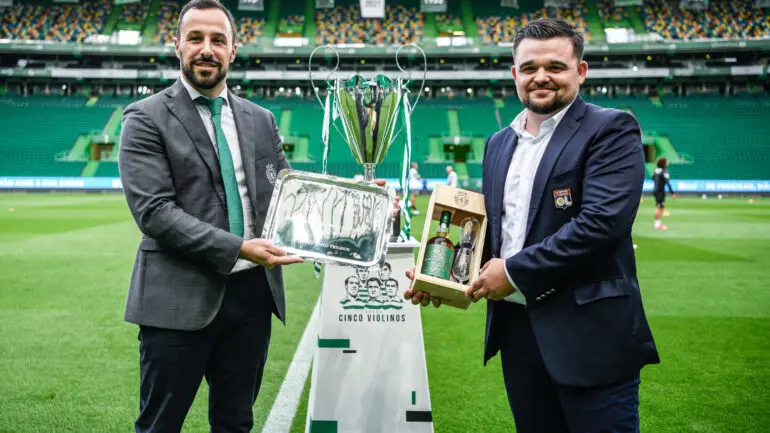 Clément Michon on the right in the photo / ©OL_Damien LG
In charge of international relations and the management of the pre-season of the men's and women's teams, Clément Michon is a man in the shadows essential to the smooth running of the Lyon club. Portrait.
Imbued with humility and at the service of the institution. At 34, Clément Michon, at the club since 2011, has not yet suffered from OL syndrome. In short, he did not take the big head. "He is a Lyonnais in the noble sense of the term. He works and does not strut around shouting from the rooftops that he is part of OL. He gives his all for the institution while remaining very discreet despite his immense efficiency", we breathe internally. Business school graduate (ISSEG Lyon), Clement Michon landed at OL as an intern. "I spent three months in the marketing department, particularly in connection with the OL Foundationhe says. My internship went well and I continued to work on the development of the foundation with Laurent Arnaud (former managing director of the foundation). As he was managing a number of files at international level, I started working on this from 2014 for the pre-season, and then helped him with international partnerships. I totally changed in January 2016 on these subjects."
---
In close collaboration with the athlete
---
Now alone at the helm, helped by an assistant and an intern, Clement Michon must be activated on several fronts. First of all with the establishment of partnerships abroad. "These are not necessarily image partnerships or partnerships where we sell licenses as many clubs do.he assures. We adapt our know-how to the needs of our partners who can be federations, private academies and clubs. We put things in place with the Dakar Sacré Cœur, the Pelé Academy, the FUS Rabat, depending on the different issues. In another style which is more cooperative, there is the Athletico Sports Club in Lebanon and Ho Chi Minh City in Vietnam." A mission carried out throughout the year in close collaboration with the sports management. "I report directly to Vincent (Ponsot, the director of football). Besides, it's a real wealth to have it, insists Clément Michon. I'm not saying this out of hypocrisy, but it's a real pleasure to work with him."
"Together, we coordinate, we find opportunities, we negotiate them, we put them in place, we take care of the follow-up, he details. I have a research and consulting activity, too, to feed the board on more global issues from an international point of view." Concerning the management of the pre-seasons of the men's and women's teams, there too, there is no shortage of work. "My role is to bring together the issues and needs of the athlete towards the same point. There are image or economic issues such as the agreement with Canal + on the broadcasting of matchesdecrypted Clement Michon. The role of our service is to bring all these issues together towards a meeting point to meet the needs of dates, opponents, formats and expectations of Peter (Bosz) on meetings."
---
"According to the athlete's complaints"
---
To do this, you really have to listen to the expectations of the coach in place and adapt. "Initially, I work with Peter (Bosz) then on a daily basis with Julien Sokol (team manager)he says. There are a number of matches that must be found as soon as possible depending on the athlete's grievances. We then back it up with the economic issues submitted to us by management. The idea is also to play foreign opponents. To be able to play high-level matches, to be able to take part in prestigious matches like Feyenoord or Inter Milan which are coming soon." In this area, OL stands out from other clubs. "There are very few of us in France to operate this way. I believe that OM proceeds in the same way as usemphasizes Clément Michon. But I don't know of any other clubs that manage in this way. The stakes of tours depend on the opportunities we have. The quality of the matches and the dates take precedence over the economic stakes. OL is in this desire. If there's an opportunity to tour China like we've done in the past, we're not going to miss it. But it's really the quality of the matches that we put first."
Clement Michon some of whom find physical resemblances to Willy Sagnol is permanently on the alert. "You have to monitor everything: the quality of the grounds, the accesses, that the swimming pool is at 35 degrees (smile). Overall, we try to anticipate as much as possible, and afterwards, you have to be able to change quickly, to discuss, to stand up also when there is a lot of pressurehe confides. Because not all clubs are organized the same way. They are not necessarily transparent. We also have promoters who manage certain matches. They will change their mind all the time: suddenly yes, suddenly no. You have to be able to manage with any type of behavior and with different cultures."
---
"It's super competitive"
---
And to continue: "It's hyper-competitive. It's a brand market with a few clubs like Manchester City, Liverpool, Bayern and PSG who have other touring stakes. They have just enormous power of attraction. They have identified fan bases. These are clubs with other considerations, with completely insane economic conditions. We are talking here about several million euros per game played." Olympique Lyonnais is in a completely different category. But you also have to keep your cool. "It is enough for a club to ask half as much as us to change the situation. Some people tell us: 'why are you asking us for such a price when such a club is able to come for less.' You have to fight to succeed in positioning yourself"argue Clement Michon.
"After all this negotiation, there is the establishment of contracts. We have to work with the club's legal department, with television because they have specific needs for the broadcasting of matches.he adds. We will also work with each body of OL around the sports staff: the needs of stewardship, medical, transport. All this must be supervised so that each actor can benefit from it. Clearly, we federate, we coordinate information and we redistribute it to the competent actors. We have a basic plan, but we have to be flexible, even contortionist to be able to find solutions."
---
"Manage things with the maximum of diplomacy"
---
Clement Michon must constantly keep a cool head because it is not the adventures that are lacking. It is the least we can say. "I sometimes have unusual actors who ask me. Presidents of Ligue 1 clubs who called me to try to negotiate a match because discussions were getting bogged down with their team. I have already had Aurélio De Laurentiis (president of Napoli) on the phone to try to solve a date problem for a match. It's part of the 'sweets' of the job when you end up with quite particular thingshe smiles. You have to be a real Swiss army knife, be attentive, able to digest pressure and manage things with the maximum of diplomacy. It's my way of doing things: always trying to find the right compromises. You have to be able to synthesize, to be able to keep commitments, to understand everyone's needs and to be able to justify them to management. It's a balancing act while respecting the values ​​of the club." A function mastered by Clément Michon who, in a few years, has made himself essential.